If you are planning a business relocation or a commercial move, it can be quite an overwhelming task.  You need to expertly plan a move that safely transports all of your files, office furniture and business materials safely to your new destination, with minimal disruption to your regular business activities. So before you start packing boxes you need to plan accordingly.  A business relocation can only be successfully completed if it is extremely organized and well planned.  A well planned move will save you time, money and effort.
Following are some commercial moving tips that can help to make your commercial move much less stressful.
Plan Early
Commercial relocations are typically planned at least six months in advance, and when you're dealing with large commercial moves, this may require years of planning.  If you plan well in advance it will save you a lot of unwanted stress down the road.
Create a Clear and Concise Moving Plan
Assign a project manager to handle your move. This may be someone within your organization or from a reputable moving and logistics company. The project manager should meet with you directly to plan and discuss all the details and expectations of your move. They should be able to come up with a written, detailed plan and schedule that features a timeline of every detail of your move.
Labeling
You (and your employees) should label every box with the contents, the department and its designated new location in your new space. Labeling boxes will make the unpacking process so much easier.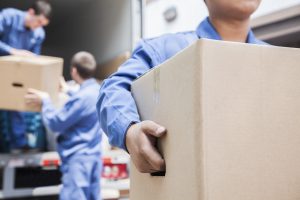 Schedule your Move Accordingly
Timing is extremely important when it comes to moving.  In many cases office moves need to take place outside of normal business hours due to restrictions put in place by the building during working hours and as not to disrupt regular workflow.  In some cases, you may have to vacate your place of business by a specific date and time. Often timing must also be specifically coordinated with a specific date and arrival time for your new location. If you hire a moving company, they should be able to adhere to tight schedules and deadlines.
Hire an Experienced Moving Company
This may be one of the best decisions you make. A professional and experienced moving company will be able to expertly handle the following services:
Packing and Loading: They should carefully pack and load all of your materials.
Labor: They will provide the labor and appropriate equipment for moving and perform assembly and disassembly if necessary.
Transit: They will provide the transportation to pick up, transport and deliver all your business equipment.
Unpacking: They should be able to unpack all of your goods if requested.
Safe Arrival: A professional moving company should be able to assure you that all of your items will arrive safely at their new location.
If you are planning a commercial move, Triple Crown Moving and Storage is a highly experienced moving company that can assist with every comprehensive detail of your move. They are fully licensed and insured and have a long history in the moving industry. Established in 1909, they are one of the oldest and largest moving companies in New York and the tristate area.
Hire a responsible and experienced moving company like Triple Crown and you can be assured that your move will go smoothly. Give them a call at 1-800-CROWN-40 for a free estimate on your residential or commercial moving project today.