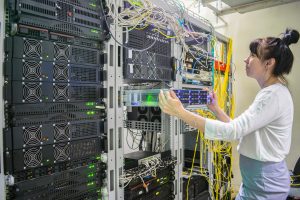 Planning a successful business move can be challenging and extremely overwhelming at times. In addition to moving all of your files, furniture and equipment safely to your new destination, you also need to do so with minimal disruption to your regular business activities.  Most importantly however, in today's IT focused business industry, you have to successfully relocate your data center.
An article on Data Center Journal.com explains, "Relocating a data center is no small task. Unlike your average corporate move, which involves breaking down, storing, shipping and reassembling equipment, data centers must focus on other important considerations—namely, ensuring that customer data is available and accessible while the transition is taking place. If you've never been through a move of this magnitude before, it's important to enlist the help of a firm that specializes in this service to avoid downtime for your clients and disaster for your business. Meticulous planning and preparation are critical for any successful relocation."
A data center relocation is a crucial operation that requires intricate planning to ensure a smooth and efficient outcome. If your business is planning a data center migration, Triple Crown can handle all the logistics for any data center relocation. Our experts can manage the entire process from the initial assessment to completion. They will devise a comprehensive strategy to ensure the complete implementation of your data center in your new location.
If you partner with a data center relocation specialist, their services should begin with initial strategy and planning meetings and an inspection and assessment of all of your equipment. A complete list of services should include:
Assessment of the physical layout of new location
Implementing a relocation plan
Risk management and compliance strategies
Authorized Certificate of Destruction (COD)
Lifting and shifting of all applicable main frames, racks and services
Equipment and inventory packing and transport
Physical unloading and product set up
Inventory reconciliation
Any necessary disposal and recycling services
All aspects of the data center migration process should be performed in strict adherence to your business timeline.
If you are planning a commercial relocation, Triple Crown Moving and Storage is a highly experienced moving company that can assist with every comprehensive detail of your commercial or corporate relocation.  Triple Crown can also help to plan and execute a flawless data center migration for your commercial business. We will create a customized solution with fully integrated servers, storage, and networking services. Trust Triple Crown to safely and successfully relocate your data center. Give us a call at 1-800-CROWN-40 for a free estimate on your commercial moving project today.