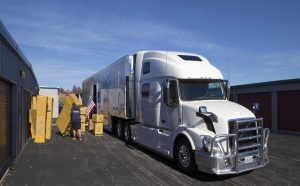 If you are planning a cross country move and you have a tight budget, with a little planning and some smart and economical choices, you can successfully complete a long distance move.  While the task may seem overwhelming at first, the more planning and preparation you do, the easier, cheaper and more successful your move will be.
Following are some tips to keep in mind when you plan for your long distance moving venture.
Choose a Smart Moving Date
Timing can be everything when it comes to moving. The most expensive times to move are during a holiday, on a weekend and at the end of the month. Try to schedule your move during a weekday; which often is rewarded with a less expensive price tag.  The months of May through September are also the busiest months for the moving industry. While it may not always be possible, an autumn (even winter) or early spring move can be more beneficial financially.
Reduce Your Baggage
Moving is a great time to sort through all of your belongings and purge! Take the time to sort through the junk drawer, bins of old clothes, movies you've had around for years, old toys, old plates, dishes and more.  Label your moving boxes and fill bins with items that you want to discard. It feels good to part with things you no longer need, and the smaller the truck you need and the fewer boxes you have to fill, the less expensive your move will be.
Have a Garage or Tag Sale
Have a moving sale to make a little money and get rid of all the belongings you no longer use or need. This is a great way to not only clean out your cabinets and drawers, but also to make some extra cash that can be put towards the move and the cost of relocation. In addition to having a moving sale at your home, you can also sell larger items like furniture, electrical devices and other items on sites like Craigslist and Letgo.
Eat Cheap
On moving day, you will be in a car for several hours making that drive across the country, which means you will have to eat multiple meals on the road. Save some money by packing your own food for several meals.  If you do decide to pay for food, opt for fast food restaurants instead of sit down restaurants that require you to leave a tip for your server. Another smart idea is to buy a case of bottled water to stash in the car so you have drinks available as needed and don't have to make stops to purchase them at the gas station or convenience store.

Hire Professional Movers
Hiring professional movers ensures the highest quality move. Professional movers will load your belongings carefully, transport your belongings across the country, and unload items in the appropriate room in your new home. Full-service movers can provide things to make the move go smoothly that you may overlook. They can secure necessary parking permits, are equipped with gear such as furniture pads and dollies to protect your items and make transporting them simpler, and can disassemble and reassemble your furniture so you do not have to yourself.
The costs of moving add up, but there are some ways you can cut corners to help the cross-country move be as affordable as possible. If you take care of some things beforehand like eliminating extra items you don't really need and packing your own food and drinks for the drive, then you can let movers take care of the rest.
If you are planning a cross country move, Triple Crown Moving and Storage is a highly experienced moving company that can assist with every comprehensive detail of your move. They are fully licensed and insured and have a long history in the moving industry.
Hire a responsible and experienced moving company like Triple Crown and you can be assured that your move will go smoothly. Give them a call at 1-800-CROWN-40 for a free estimate on your residential or commercial moving project today.