Most Experienced of Moving Companies in Long Island, NY and NYC
Planning a move can be a very stressful time.  Whether you live in the suburbs on Long Island, a metropolis like NYC or in upstate NY, moving can be extremely overwhelming. You may attempt to handle the entire move yourself but will quickly find that it is not an easy job. At some point you will most likely come to your senses and decide it is time to hire a moving company. But before you turn to the internet and start searching for local moving companies, you need to determine the moving services that you are looking for and the services that moving companies can provide. In many cases, the type of home you have and the area that you live in, may determine the type of moving services that you require.
The Complete Guide to Moving Companies in Long Island, NY and NYC
Before you decide on one or several moving companies determine which category your move falls into so you can make the best decision.  You want to make sure that you hire a moving company that addresses all your concerns and can provide a full list of services to effectively handle your move.
Residential Moves
If you live on Long Island or in upstate New York, you most likely live in a house in a residential neighborhood. Why does this matter to a moving company? This means that you have a lot of stuff!  A house usually has several bedrooms which means several beds and bedroom furniture to move; maybe a kitchen and a dining room, so two tables and numerous chairs; and don't forget about any outdoor furniture and all the lawn equipment in your garage!  A residential move comes with a lot of items to move – so you need a Long Island moving company that has the equipment, transportation and staff to handle your move!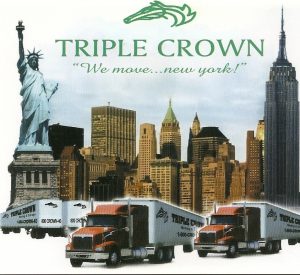 Metropolitan or Big City Moves
If you live in a place like New York City whether its Manhattan, or even Brooklyn or the Bronx, your moving needs may be different than the needs of someone on Long Island.  You most likely live in an apartment or condo and if it the size of the average NYC apartment – you don't have much room which means you don't have that much stuff.  Well at least not as much as a Long Island homeowner!  You do however; have some other issue to consider.  Most apartment buildings in NYC have many floors – so you need to be able to fit all of your items in an elevator or be able to carry them down the stairs.  And if you live on a high floor, that' not an easy feat.  Factor in things like finding available parking spaces on the day of the move, and coordinating packing and transport, and your head may begin to spin!
Commercial Moves
A commercial or corporate move is an extremely comprehensive undertaking and you need to find a highly experienced moving company to assist you. Whether your business is on Long Island, in New York City or anywhere in New York state, a corporate or commercial move is a lot of work! Every organization has its own unique needs, concerns and plans, and in most cases, the bigger the company, the more complex and time consuming the move.  Factor in things like data center migration, equipment relocation, intricate floor plans, tight schedules, arrogant executives and a large staff of employees, and you could have the recipe for disaster (and possibly the loss of your job) if all does not go well!
Once you have decided which category your move falls into, you can start researching moving companies.
What Do Full Service Moving Companies Do?
Full service moving companies should be able to handle every aspect of your move. You should not have to worry about anything on the day of your move. Triple Crown is a highly experienced moving company based on Long Island that services Long Island, New York City and the New York tristate area. Compared to their moving companies that service these areas, they are the most reliable and have the most experience.
Resident Triple Crown offers household moving and home relocation services to customers in the tristate area. They can handle a local move or relocation across the country! Planning a move can be very stressful and they understand that every move is unique and every family and home has different needs and concerns. Triple Crown offers complete home relocation and moving services for Long Island, New York City and the New York tristate area that cover every detail of your move including: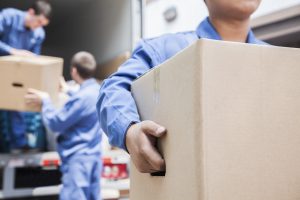 Full Service Packing – The staff from Triple Crown Warehouse will pack all of the contents of your home. They are professionally trained to handle all items with care including fragile items, items of value and electronics. Each item is cautiously packed and every box is labeled. If you prefer to pack your own belongings, they can supply moving boxes and all packing materials.
Loading – After packing is completed, all furniture is wrapped and protected with stretch wrap and durable material. Items are then systematically loaded into our moving trucks and positioned so that they will not shift or fall. They can load and unload items at any NYC apartment or Long Island home.
Transportation – Their trained and licensed drivers safely transport your belongings to your new location. They can transport items to the next town, the next state or across the United States.
Unloading – They will unload all the items from our moving vehicle and take inventory to make sure that every item is accounted for. With customer direction, they can place all items into specified rooms. If needed – reassembly services can also be provided.
Unpacking -They also offer unpacking services to help homeowners get settled in their new home. They can unpack your boxes upon request, and they will as remove any packing supplies.
Storage – They also offer storage options for household items if your new location is not yet available on the day you vacate your home.
Reputable moving companies should offer free estimates on all of their services.  They should be able to handle every aspect of your move, whether you live on Long Island, in New York City or anywhere in New York State.
The Best Commercial Moving Companies Can Handle Even the Most Complicated Moves
If you are planning a corporate or commercial move, your concerns and needs are very different than residential movers.  From retail businesses, to office space to commercial machinery, a commercial move is a complicated project. If you are relocating your business from Long Island or renting new warehouse space in NYC or in upstate NY – you need an expert moving company to handle everything. When you use a moving company like Triple Crown Warehouse, you are assured that you will have a knowledgeable and experienced staff of movers, transportation specialists, project managers, warehouse operators and an administrative support team that work together to provide expert moving and relocation services.
According to Fortune.com, company moves are on the rise and employee relocations have grown over the past five years.  With so many corporations relocating, the commercial move industry is also increasing.  Commercial moving companies need to offer high quality – specific services to meet the needs of their corporate and commercial client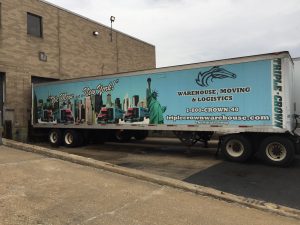 s.
Whether you are moving employees, products or machinery, only an experienced commercial moving company will be able to assist you.  You need to have a designated project manager who will oversee the entire move. They should be able to manage the entire process so that you will not have to worry about anything on moving day.  The key to a successful corporate or commercial move is planning and preparation.  Make sure to hire a moving company that can organize, plan, prepare and execute your corporate move efficiently.
When you work with a moving company like Triple Crown, you will work with a highly experienced moving team that covers every comprehensive detail of your commercial or corporate relocation. Triple Crown Moving handles all the logistics of your move through careful planning that includes an initial meeting to review all the aspects of your move, thorough analyzation of floor plans and furniture placement and a review of both old and new locations to determine elevator locations, loading and unloading conditions, and traffic areas to determine maximum volume for moving.  After all research and planning is completed, they give the client a complete office relocation plan that includes accurate timetables and a realistic moving schedule.  Once the plan is agreed upon – from there, a date is set and the move is underway.
Trust Triple Crown, a truly reliable moving company, for all of your residential, corporate and commercial moving needs. They service Long Island, NYC and all of NY State. No other moving companies can offer the quality and experience that Triple Crown offers. Call 1-800-CROWN-40 for a free estimate for your commercial moving project today.