Welcome to Triple Crown Organization
Triple Crown Organization is a highly experienced commercial , residential, and Long Distance moving and transportation company. With a long history in the industry, we have an experienced team of professionals that can handle your corporate relocation, cross country move, or any of your transportation needs.
We work closely with all of our clients to plan, manage and complete their relocation in a secure, efficient and timely manner. We offer free estimates on all of the services that we provide. We will discuss all of your moving and transportation needs and give you a free quote on any services that you may be interested in.
Moving Companies Long Island, NY & NYC
If you are relocating and you have been researching Long Island & NYC moving companies, you should consider Triple Crown.  Triple Crown is a highly experienced moving company that offers a knowledgeable and experienced staff of movers, transportation specialists, project managers, warehouse operators and an administrative support team that work together to provide expert moving and logistical service to our clients. We can manage and coordinate all of your moving, relocation, logistics and storage needs.  We assist customers throughout Long Island, in New York and nationwide!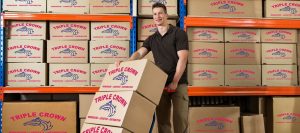 Compared to other Long Island moving companies, Triple Crown offers a long list of services to accommodate the needs of our Long Island customers. We are experts in the commercial moving industry. We have years of experience and are recognized as a leader in commercial and residential moving. We can fully coordinate and manage your entire commercial or residential relocation from inception to completion.  Many other Long Island moving companies only handle one or the other – not both.
Not all Long Island moving companies can handle all of the logistics for your move. At Triple Crown, we also offer specialized logistic solutions tailored to the needs of your Long Island industry. We can plan and manage the entire process and provide seamless and flexible solutions to all of your moving, warehousing and transportation needs.
At Triple Crown, we offer free estimates on all of the services that we provide. Give one of the best
Long Island moving companies
a call today at 1-800-CROWN-40.