How Small Businesses Can Benefit from Warehousing and Distribution Services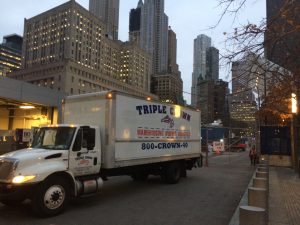 Whether you are planning a residential or large commercial move, there are many things to consider if you want the entire process to run smoothly. We have compiled a list of the most frequently asked questions to help you successfully plan and organize a successful relocation.
If I hire a full service moving company – what types of services can they provide?
A moving company should be able to help you with every step of your moving process. They need to have the staff, transportation and moving expertise that your specific move demands.  An experienced long distance moving company should be able to offer an initial moving consultation meeting, packing and loading services, transit services and unpacking and delivery services.
I am relocating my business to a new location – can a moving company help me with planning?
An experienced and professional commercial moving company should be able to help you with all aspects of planning and organizing your business move. Planning and logistics services should include:
An initial meeting with management and office personnel
Careful analyzation of floor plans and furniture placement
Efficient tagging process to ensure that there is no confusion in where items should be delivered in the new location
In-depth studies of both old and new locations to determine elevator locations, loading and unloading conditions, and traffic areas to determine maximum volume for moving
Do any moving companies offer storage space?
Some moving companies do have warehouses where you can store your household belongings (or business equipment) temporarily if your new location is not yet available. Check with the moving company to see if they have any storage space available prior to your move.
Do any moving companies offer full logistics services?
Yes, certain moving companies can handle the full logistics of your move. An experienced commercial logistics company should be able to handle all of the following services related to your commercial move if needed:
Can a moving company pack my belongings for me?
Yes.  An experienced moving company should also offer packing services. They should have an experienced staff that can pack all of the contents of your home. They should be professionally trained to handle all items with care including fragile items, items of value and electronics. Each item should be carefully and cautiously packed and every box should be labeled with its contents.
How about unpacking?
Again – yes.  A professional moving company should offer unpacking services to help homeowners get settled in their new home.  They can often unpack your boxes upon request, as well as remove any packing supplies.
I am moving into a new city and state – what types of things should I research before I move there?
It is a good idea to learn as much as possible about your new town or city before moving day.  The internet makes it easy to research things like local real estate markets, school district information, crime statistics and more. You may also want to visit local sites that can provide great insight into local culture, dining, nightlife, services and more.
If you are planning a residential move or a commercial relocation, Triple Crown Moving and Storage is a highly experienced moving company that can assist with every comprehensive detail of your move. They are fully licensed and insured and have a long history in the moving industry.Give them a call at 1-800-CROWN-40 for a free estimate on your residential or commercial moving project today.