Moving can be a stressful and overwhelming experience. Planning a successful move can take up a lot of time and energy. The good news is that in the technology focused society that we live in today – there are apps available to help make your move run smoothly. And while an app can't pack up all of your belongings or load up a moving truck, it can help to streamline the entire moving process, eliminate mix-ups, and hopefully save you some money.
There are some terrific moving apps that can help you before, during and after your move. Before your move you want to be able to create a plan, complete a household inventory, create moving day checklists, develop a timeline, establish a budget and more. Check out some of the apps that can help you plan and pull off a successful move.
Zillow
If you are planning a move, then you most likely already have a new home. However, if an unexpected relocation was just announced by your company – you may need some help in finding a new home and selling your old one. Zillow is a real estate marketplace that features the latest listings for house and apartment rentals and sales and also provides information about different regions and mortgage lenders.
Moved
The Moved app pairs you up with a personal assistant who will help coordinate and execute every step of your move via text. Services include getting moving quotes from moving companies, coordinating all moving logistics, ordering packing supplies, finding storage locations, updating your address and more. The service is free and operates everywhere within the United States.
Moving Checklist Pro
This app helps to ensure that you don't forget any of the important tasks associated with your move. It incorporates pre-written checklists of common tasks like buying packing materials, changing your address and transferring your utility services.
Sortly
This is a great app to help you manage the inventory of all items that you have to move and helps you to organize your stuff so you can find it later. Sortly lets you catalog everything you own by snapping photos and storing them in the app. You can then create custom labels for each box that has a bar code that tells you exactly what's inside each box.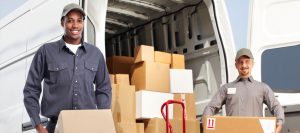 Classified Apps Including Letgo and Craigslist
Both of these apps are great platforms for buying and selling your stuff. Moving is a great time to get rid of items you don't need any more like extra furniture and old technology, but it's not always easy to do. Fortunately, these apps can help you and they are both effective, hyperlocal style marketplaces for connecting buyers and sellers.
Unpakt
Unpakt is like Kayak (a price comparison site) for moving companies. You enter your move date, your destination, and a general inventory of moving items and Unpakt will give you rate comparisons from several different moving companies.
BrightNest
This app offers a wealth of information to help you get settled into your new home. From decorating ideas to money-saving tips, BrightNest gives you all the information you need, right at your fingertips.
If you are looking for an experienced and professional moving company to help you with your residential or commercial move, contact Triple Crown Moving and Storage. They can assist you with every comprehensive detail of your move. They are fully licensed and insured and have a long history in the moving industry. Hire a responsible and experienced moving company like Triple Crown and you will be assured that your move will go smoothly. Give them a call at 1-800-CROWN-40 for a free estimate on your residential or commercial moving project today.